File Servers - The Backbone Of The Network
Companies can protect their File Server deployments from attack by using Bitdefender's ability to scan for malicious code in files, maintain system integrity, support compliance to corporate security policies and prevent sensitive data from being distributed outside of the organization.
Bitdefender Security for File Servers
Bitdefender Security for File Servers is a data security solution especially dedicated to Windows- based servers. Easy to install, configure and manage, it effectively offers world-class protection from viruses, spyware and rootkits, while lowering the burden of administrating a server software solution.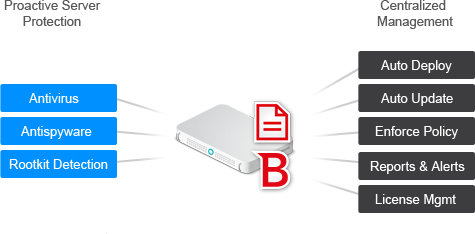 Defense in Depth
Bitdefender Security for File Servers is just one element in a comprehensive suite of solutions providing end-to-end protection from the gateway to the desktop. Bitdefender's proactive, multi-platform products detect and stop viruses, spyware, adware and Trojan threats that can compromise your network integrity.