Bitdefender Security for Mail Servers
A company's email system provides one of the main entry and exit points within the network for malicious code propagation and data leakage. Therefore, email security solutions should be able to counter the many different threats that leverage a company's email system in order to propagate:
Sending or receiving malicious code through email attachments
Unsolicited communication in the form of Spam
Phishing attempts to acquire confidential information
Legitimate users leaking confidential information by email
Dictionary Harvesting Attacks (DHA)
Bitdefender® Security For Mail Servers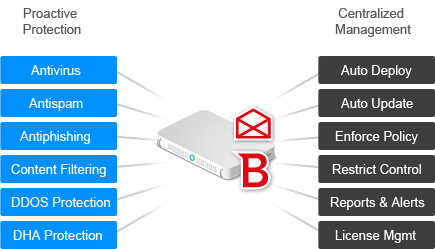 Defense In Depth
Bitdefender Security for Mail Servers is just one element in a comprehensive suite of solutions providing end-to-end network protection from the gateway to the desktop. Bitdefenders proactive, multi-platform solutions detect and stop viruses, spyware, adware and Trojan threats that can compromise your network integrity.