Bitdefender Security for Sharepoint
Protection against the propagation of malicious code via SharePoint resources should be high on the list of IT priorities. If undetected, viruses can remain stored in the SQL based document libraries for months, sometimes even years at a time.
Bitdefender's On-Premise Business Solution v3.5 allows companies to:
Saving infected document files to the document
library
Embedded viruses vand Trojans
Via an infection propagated through a mapped network
That is why companies need to protect their SharePoint deployments from attack by using Bitdefender's ability to scan for content within a document to help ensure compliance to corporate security policies and prevent sensitive data from being distributed outside of the organization.
Bitdefender Security for Sharepoint
Bitdefender Security for SharePoint provides proactive protection of SQL document repositories against known and unknown viruses, spyware, Trojans and root kits. Real-time, optimized session-based scanning of uploaded, downloaded or accessed files helps to prevent Microsoft SharePoint deployments from storing and sharing of infected files within the network.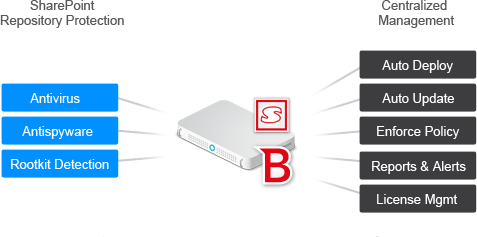 Defense In Depth
Bitdefender Security for SharePoint is just one element in a comprehensive suite of solutions providing end-to-end network protection from the gateway to the desktop. Bitdefenders proactive, multi-platform products detect and stop viruses, spyware, adware and Trojan threats that can compromise your network integrity.