Enterprise Security.Reinvented.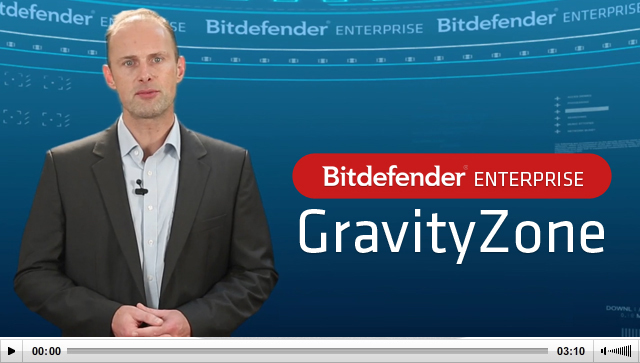 Bitdefender GravityZone is the first security management solution to properly address the scalability and performance challenges that enterprises are facing today. Built from the ground up for heterogeneous environments, and using a unique design approach, GravityZone unifies control for virtualized, physical, and mobile endpoints.
Organizations have the flexibility to deploy any or all of the three security services within GravityZone: Security for Virtualized Environments, Security for Endpoints, and Security for Mobile Devices.
Optimizing security management for the realities of cloud computing, virtualization, or BYOD is possible through innovation. The GravityZone approach provides organizations with a range of benefits including improved operations, simplified security workflows, increased performance, and reduced administrative efforts and costs. These are achieved through:
Accelerated deployment by simply importing a virtual appliance
Massive scalability - from the smallest to the largest installation, without performance issues
Integration with Microsoft Active Directory, VMware vCenter, and Citrix XenServer for simplified deployment of physical and virtual endpoints
Unified administration that eliminates point solutions and reduces administrative efforts
Related Links