Purpose-built protection for instant savings on Amazon EC2
Bitdefender helps Amazon Web Services customers save on security-dedicated costs in the cloud by providing largely-scalable antimalware billed by the hour. Security-as-a-Service for AWS has been purpose-built to deliver high-performance protection on Windows and Linux EC2 instances running in the Amazon cloud. With patent-pending optimization technologies, the solution enables considerable performance gains by centralizing and deduplicating the antimalware functionality to dedicated scanning services.
Security-as-a-Service for AWS implements simplified management and deployment through an intuitive web-based console that helps overcome administrative complexity. Tightly integrated with Amazon Elastic Compute Cloud (EC2) web services, the Security Console enables centralized management, reporting and configuration of the protected instances, providing users with a unified view of the security status across all supported AWS regions.
Bitdefender integrates with Amazon's Flexible Payment System (FPS) to accommodate consumption-based licensing, so all you need for registering to the service is a valid Amazon account.
Sign up here for a free trial of the service!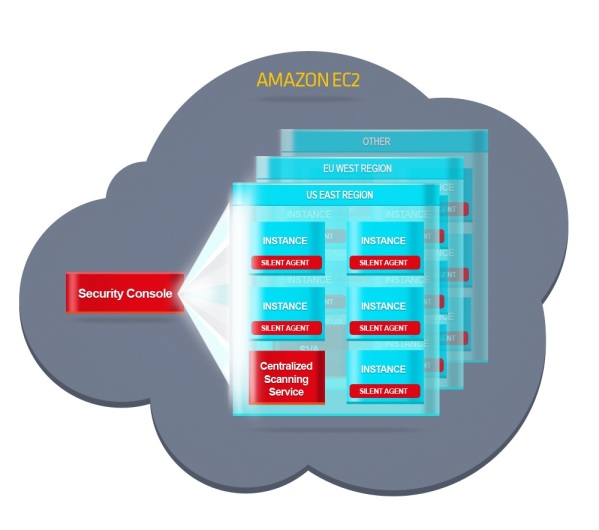 Security-as-a-Service for AWS - Components and Functionality
Traditional security comes with a price
Traditional antimalware solutions are not designed to run in public cloud infrastructures and are therefore inefficient in terms of performance, management and even up-to-date protection. When used on virtual instances, legacy security can lead to:
Laborious management: With traditional antivirus, a full antimalware agent is required on each virtual machine instance. This duplicates the effort of deploying the AV software every time a virtual instance is created, increasing the management overhead.
Poor performance: Traditional security treats each virtual machine on a silo basis, scanning each instance locally. This results in significant resource duplication and can lead to performance spikes during regular updates, especially when starting an instance after a long period of dormancy.
Rigid licensing: Traditional antivirus licensing does not accommodate the hourly consumption-based model, which means organizations must estimate their peak in utilizing the service. This directly impacts the costs savings gained by moving applications into the cloud.Integrates with VMware vCenter Server and Citrix XenServer to import organizational nodes and inventory for increased manageability within the datacenter